By Judy Moore Pullen
What is applique?
Let's start by answering this simple question:
To applique is to apply a piece of fabric on top of another piece of fabric background or on top of a pieced background. This can be done by hand and/or machine, using a variety of methods and techniques. An applique (n.) is the fabric stitched on top of a background, either by hand stitching or using a sewing machine.
What I love about applique:
I love applique for so many reasons! My passion for it is in both the process and the product. I find it awesome, while some find it awful to do. At one time, I belonged to a group of like-minded hand applique stitchers. We could multi-task: sit and stitch and enjoy each other's company at the same time. I hope to sway some readers to try applique, so this subject probably will probably require more blog posts.
The Economics of applique:
There is actually a little economics history related to applique. Years ago, those who made quilts for function only were probably the first scrap quilt makers. If you had to raise the cotton or sheep, harvest the product, spin the fiber, weave the cloth, make the garment, all while struggling to put food on the table and survive, the most efficient and economical way to make quilts for your family was to join scraps of fabric side by side of whatever was left over from worn out clothing. Over time, when funds were more available, and a quiltmaker desired to make a quilt pretty, she could arrange bits and pieces of fabric together to perhaps design flowers for embellishment and applique them on top of the scrappy pieces. Quiltmakers with even more money and time on their hands added hand applique to their quilt tops. Think crazy quilts, broderie perse.
My journey with applique:
As I enjoy the process – the doing of something (except for dusting and vacuuming), hand applique is a joy for me to do! There are so many ways to hand applique, and my favorite way is needle turn. I remember the moment I saw someone demonstrating it at a local quilt show years ago. She looked so relaxed, so confident, and her work was beautiful. I picked her brain and observed for a while, then decided to try my hand at needle turn applique at home.
In the beginning, I was somewhat self-taught, ironing a freezer paper template on the right side of my applique fabric, tracing around the cut edge with a pencil, then cutting the fabric with a scant 1/4" seam allowance. I left the freezer paper in place as I hand stitched, using thread color that matched the background and tried to conceal my stitches. I quickly learned that matching the color of the thread to the color of the applique fabric was much better. While working and playing in a quilt shop at the time, I offered to teach a hand applique class. When a student asked what kind of needle I used, I promptly replied: "Whatever I can see to thread." Let's fast forward from that time, since I have learned so much more about tools and techniques, often times by trial and several errors.
There are a few things that make my needle turn applique look so much better, and much more relaxing and enjoyable to do:
Thread size
Thread kind
Thread Color
Choice of Needle
Needle Grip-Its from Colonial Needle Co.
Roxanne thimbles
The invisible stitch
A lighted magnifier
A pillow on my lap
Cookies and coffee…
Let's break those down:
1. Thread
Presencia 60 weight thread is my thread of choice for needle turn applique. It is made from the finest quality long staple Egyptian cotton, is 3-ply for strength, and virtually lint free. The bigger the number, the finer the thread, which helps make my stitches virtually invisible. I want my hand stitching to last, so 3-ply (three strands of fiber wrapped together) makes this very fine thread so strong. Whenever possible, I unwind a strand of thread and lay it across my applique fabric to check for the best color. Sometimes I audition several colors. My first glance is my best clue to the color that will become one with my applique.
2. Choosing your needle
John James' Signature Collection Needles are my needles of choice. They are made of the very finest precision engineered steel, making them so strong. With their proprietary finish, these needles glide easily through fabric rather than prodding it out of place. They are available in 4 different kinds: Embroidery – sizes 7, 8, 9; Milliners – sizes 9, 10, 11; Quilting – sizes 7, 8, 9, 10, 11; and Sharps – sizes 7, 8, 9, 10. As with thread sizes, the bigger the number, the finer the hand sewing needle. Machine sewing needles are the opposite.
My needle of choice with my knobby fingers, is a Milliners size 10. It is longer and allows me to sweep the seam allowance under as I go, concealing the drawn line of my applique. I now remove the freezer paper prior to stitching.
*TIP: in tight places like an acute "innie" point, I have a Quilting needle size 7 already threaded. I park my Milliners needle in the background, and make tiny stab stitches with my threaded Quilting needle to invisibly secure those tricky little "innie" points.
You may prefer to begin with a different John James Signature Collection needle or one of the many others offered by Colonial Needle Company. Just as some shoes are comfier than others, see what is the best fit for you and your hands.
3. Needle Grip-Its
Prior to stitching, I secure two little adhesive clear circles of Needle Grip-Its to my needle-holding hand on my forefinger and thumb where I will be gripping the needle. Faithfully using these little magic circles, I have no pain in my hands, and can stitch to my heart's delight! These tiny adhesive circles stay securely in place during the repetitive motion of gripping and pulling a needle.
4. Roxanne Thimbles
I was happily gifted with a Roxanne Thimble several years ago, and it is the gift that keeps on giving, helping me to painlessly push the needle through fabric, regardless of what kind of hand stitching I am doing. The sideways motion of using Roxanne's Thimble is better for one's hands. Getting a correct fit is also important, and quilt shops who carry them are so helpful. Colonial Needle also has a handy info sheet on their website which can be found here.
*TIP: add a Roxanne's Thimble to your gift list, as well as matching Roxanne's Thimble earrings! They are so cute and readily identify you as a hand stitcher.
5. Lighted Magnifier
The lighted magnifier allows me to place light right over my work and more easily see where I am stitching, especially the tip of my needle as I insert it into the background fabric then upward through the underside of the fold.
6. Lap Pillow
The pillow on my lap helps bring my work to a more comfortable position so I can rest my arms and be at ease.
7. And last but not least…
The cookies and coffee, inspire me to take breaks to get up and stretch, walk into the kitchen, and let my little dogs out for a break for them, too.
In Conclusion:
Each of these tools will help your hand applique stitch become nearly invisible, strong, and secure. I think of the fold of the seam allowance of an applique as a cliff, and I am standing on the edge of the cliff. I bring my needle up from the inside of the applique to the back side of the fold, then "jump off the cliff" straight down with my needle into the background. Then travel with the point of my needle under the background a very few threads and come up with the needle just under the fold, the edge of the cliff. If you jump off the cliff/fold to the left or the right with your needle, your thread will show.
*TIP: Instead of scrunching the excess background fabric in my left hand while stitching with my right hand, I roll the excess fabric so that it fits neatly into the palm of my left hand. This keeps my fabric smoother, reduces stress on my hand, and helps prevent me from stitching my background to the wrong places as in my pillow or my clothing. I have learned a lot from my many mistakes.
Oh, the joy of needle turn applique! I feel like an artist, a sculptor, and I can "make the applique my own" by changing a shape as I go. Hand applique helps slow me down, listen to music or a recorded book, watch TV, talk with friends, or just sit quietly, breathe, and put a little love into every stitch. I can take a project with me on a walk along the river, sit down on a bench and stitch whenever and wherever I choose. I enjoy sitting outside in the cool mornings with my little girls, being serenaded by the birds' songs and stitching by hand.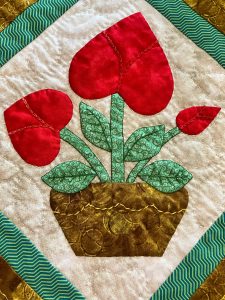 There are several ways to applique, and I look forward to sharing them with you as well. There is beauty in hand work, a human quality that is beneficial for the hand stitcher as well as for the person who admires or receives the work of one's hands and heart. Be kind to yourself and savor every stitch. Just as my dad had a box full of hand tools that helped him with his work and play, there are tools that are helpful to those who enjoy hand applique and think of it as Awesome. There is joy and grace in simple things.
Happy stitching,
Judy