By Judy Moore Pullen
Are you searching for activities to keep your youngsters as well as yourself active, creative, and off the cell phone and computer for a while this summer? Try making crayon blocks with your favorite people for fun or to preserve a summertime memory. Yes, it is ok, even encouraged that you color on fabric with crayons for this one.
My Favorite Crayon Block Quilt
My second-grade students surprised me with an entire quilt of crayon blocks that they SECRETLY made for me in 2001, the last day of school before retiring from my 37-year teaching career. At the time, my children had been studying famous artists and their art work. Each child selected his and her favorite piece of art to turn into a crayon block. Our art teacher's daughter was one of my many wonderful children that year. For our end-of-year party, my students and their parents surprised me with a quilt made from each child's favorite piece of art. Not one child peeped the secret of their surprise for me!! What a joy to have such a treasure of my children's art work and the quilt made by their parents, in addition to the gift of their parents sharing their wonderful children with me that year. Such a precious memory!
So, have some fun this summer, reading, connecting, and creating not only crayon blocks, but memories as well. Memories of a trip, a shared experience of fishing with a grandparent, shopping, a pet or pets, building a birdhouse and watching a pair of birds work together to make a new home. The process of creating crayon blocks is just as much fun as having the finished product for a memory of some summertime fun! Here are some tips, tricks, and techniques for what worked well for me in my classroom, as well as recently, at our wonderful library for over 30 children and their parents.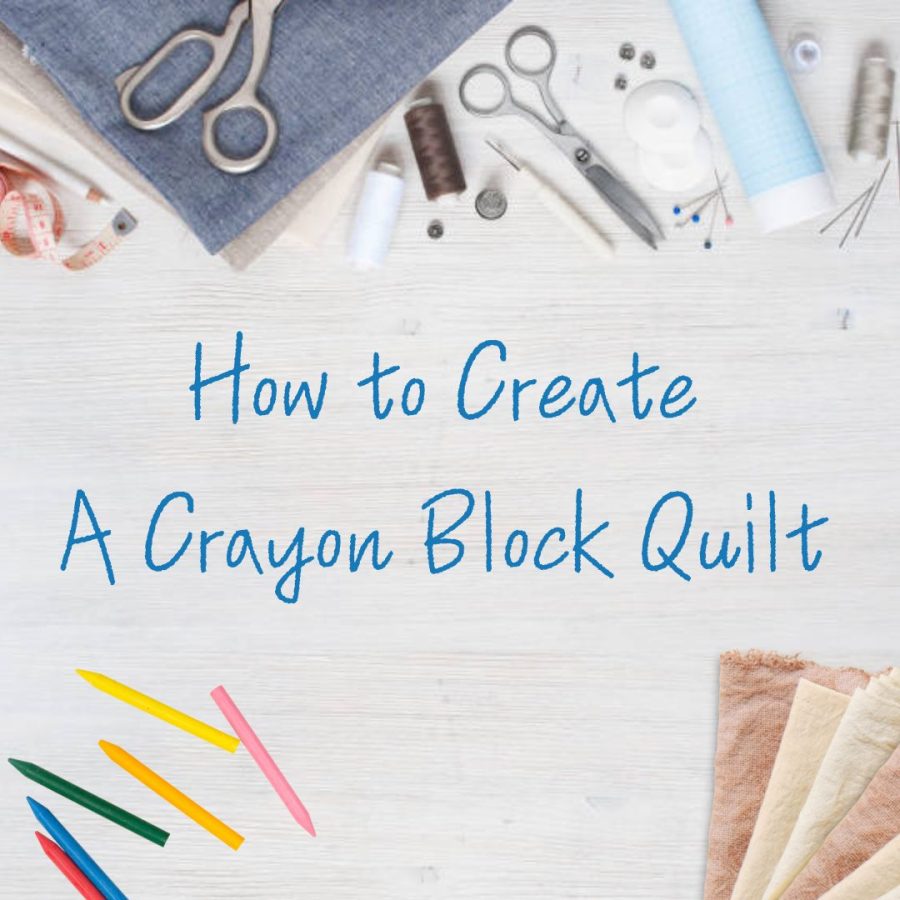 How to Make a Crayon Block Quilt:
Materials You Will need:
Muslin Cloth
Freezer paper
Scissors
Rotary cutting supplies
Colorful fabric for borders (scraps work well for a fun scrappy look)
Crayons! (Fabric crayons not necessary)
Dry iron and press mat
Plain white paper towels
Sewing machine
Children's book with great illustrations for inspiration
Cookies…optional but highly encouraged.
Step 1: Prepare the Fabric
Rinse well or gently pre-wash muslin to remove sizing. Dry gently in dryer. Press.
Step 2: Cut
Cut muslin into blocks – I suggest 12 1/2" square for 12" finished block.
Cut freezer paper into squares smaller than muslin.
With hot dry iron, center shiny side of freezer paper square to wrong side of muslin to stabilize fabric for drawing with crayons.
Step 3: Color!
Use your crayons to make a beautiful piece of art. Try to encourage children to keep their drawings within the size of the freezer paper in order to have room to stitch 1/4" seams for borders.
Step 4: Set Crayon Drawing
When your artists are finished creating, remove freezer paper.
Place muslin on press mat, crayon side up, then place sheet of plain white paper towel on top of crayon drawing.
*Make sure you remove freezer paper before pressing paper towel.
Press paper towel with hot dry iron to heat-set crayon. Let cool. Remove paper towel.
**With direct supervision (and your own good judgment regarding using a hot iron) show each child where to hold the handle of the iron. Place the other hand behind one's back to keep it safe.
Step 5: Finish Block for Quilting
Pre-cut 4 border strips to width of your choice. I cut 2 ½" wide strips. Stitch one strip on each side of heat-set block.
Stitch bordersto each side if desired.
*Consider letting youngsters stitch borders as a great beginning sewing machine project with your direct supervision.
Carefully press seams, keeping hot iron away from crayon.
Proudly show and share your sample!
**This crayon block will probably not withstand washing, so treat as you would a fabric wall hanging or treasured pillow.
Additional tips:
Show children a sample of your own crayon block prior to starting. Discuss, ask, and answer questions. Model the steps and procedure when you prepared your sample.
Don't forget to add a name and date for future reference to front of block.
Encourage children to show and share with others.
Read a book together if you are working with children to help give ideas for crayon drawings. Predict what will happen next, discuss illustrations, characters, events, problems and solutions, ideas for children's crayon blocks. Side note: As an educator of little ones, I cannot stress the importance of early literacy enough! Share the joy of books by reading daily to your newborn baby and other youngsters, modeling your own enjoyment of reading, visiting the library together, and even getting your child their very own library card to experience the delight of checking out books on their own. You will not regret it!
Enjoy! Individual blocks can framed, placed on refrigerator, sent to a special person, turned into a quilted block with others, made into a pillow, wall hanging, etc.
Happy Creating!