By Judy Moore Pullen
I am so blessed to have the opportunity to work with special needs children and adults for 37 years during my teaching career. I was challenged to find adaptive devices and techniques for those who had difficulty using everyday tools such as pencils, scissors, paper, crayons and other things that many of us take for granted. But I loved the challenge of helping others. I also learned so many things from my students that I use today as my fingers and hands are not as flexible and my vision is not as sharp. I would like to share some tips and tools that allow me to continue my passion of hand sewing every day.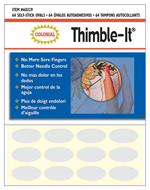 Thimble-It is a flat, self-stick oval that adheres to your finger and allows better control of your needle as you are stitching. This non-invasive little oval, applied to each "working finger," is especially helpful if you are a new hand stitcher and are reluctant to use a thimble. The repetitive motion of pushing a needle through fabric will result in sore fingers and less time spent sewing. Thimble-It helps you sew on and sew on and on.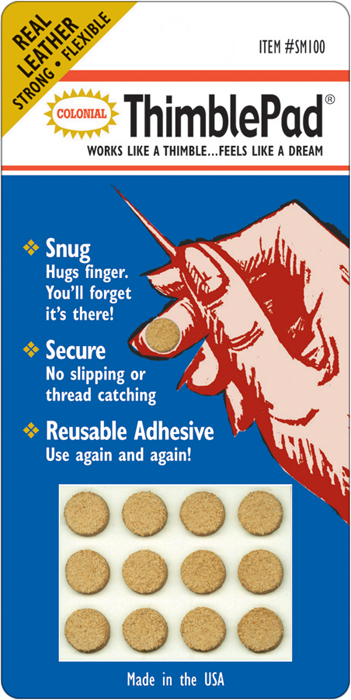 Thimble-Pad hugs your finger with its secure adhesive, yet you hardly know it is there. It is tough and helps secure the position and direction of your needle. Try stacking two pads, for maximum protection of your "needle-pushing" finger. This great little pad is especially helpful for so many hand crafts, such as embroidery, hand applique, wool applique, and hand quilting. And the best part…you can remove the pad and reuse it several more times! I stick mine to the hard surface of my lighted magnifying lamp beside my hand sewing nest. I also apply a Thimble-Pad when machine sewing on a project that may require good control of a stiletto for more accurate stitching. When finished, I remove the pad and stick it to my sewing machine.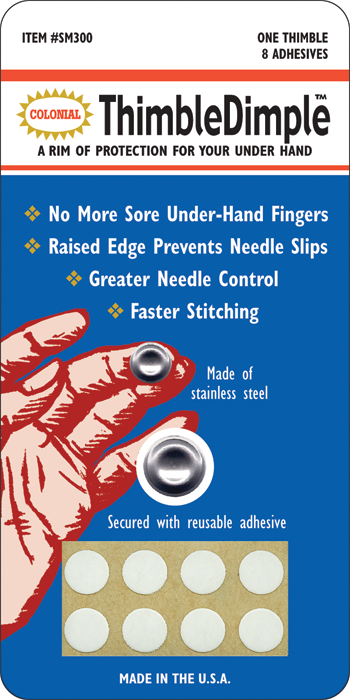 Thimble Dimple is a great transition for learning to use a thimble. Packaged with reusable adhesive dots, this small stainless-steel tool prevents sore fingers, callouses, even stained fabric due to painful finger punctures. Also, with greater needle control, you can stitch faster, perhaps moving on to completion of a project and beginning a new one!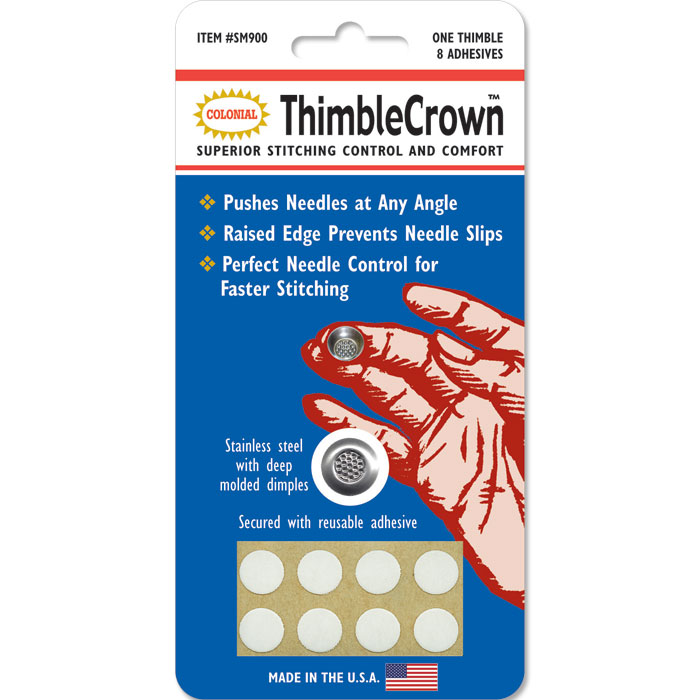 Thimble Crown, similar to Thimble Dimple, allows greater needle control since the tiny dimples within the crown help grip the needle, allowing you to push the needle at any angle. The raised edge surrounding the dimples helps prevent the needle from slipping, also protecting your fingers and hands. Packaged with extra adhesive dots, Thimble Crown can be reused several times.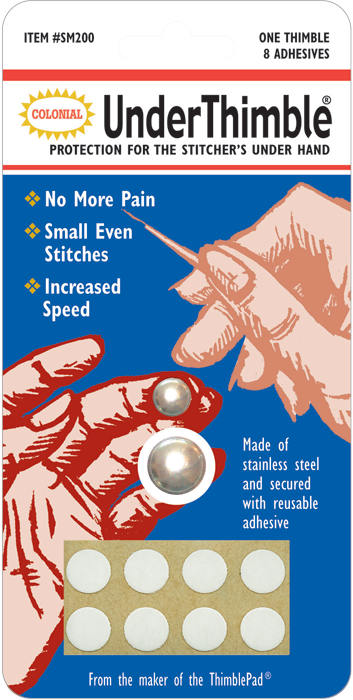 Under Thimble helps provide protection for your under hand. Especially helpful for hand quilters in making those tiny, even stitches, you can sense the point of the needle on your under hand, then rock the needle back up to the top. Sewing is smoother, stitches are more even and faster. In addition to being painless, there will be no spots on your fabric due to pricked fingers. Additional adhesive dots are enclosed for reuse.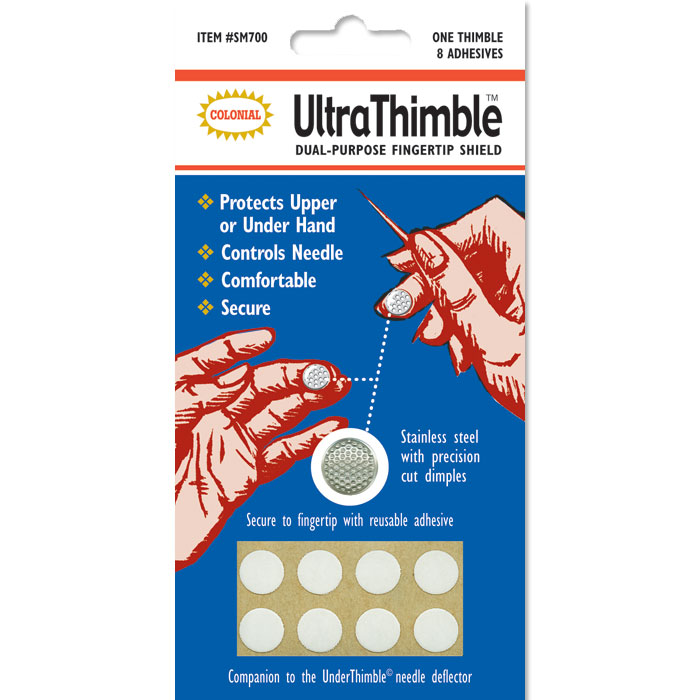 Ultra Thimble is Ultra for several, reasons: you can use this handy, protective little adhesive tool on your upper and/or under hand! Ultra Thimble is comfortable, reusable, and the precision cut dimples help with stitch accuracy and speed of hand sewing.  And…if you are still reluctant to using a thimble, this is an excellent tool to allow you to continue doing what you love to do, pain free. However, it is also a good transition if/when you desire to learn to use a thimble.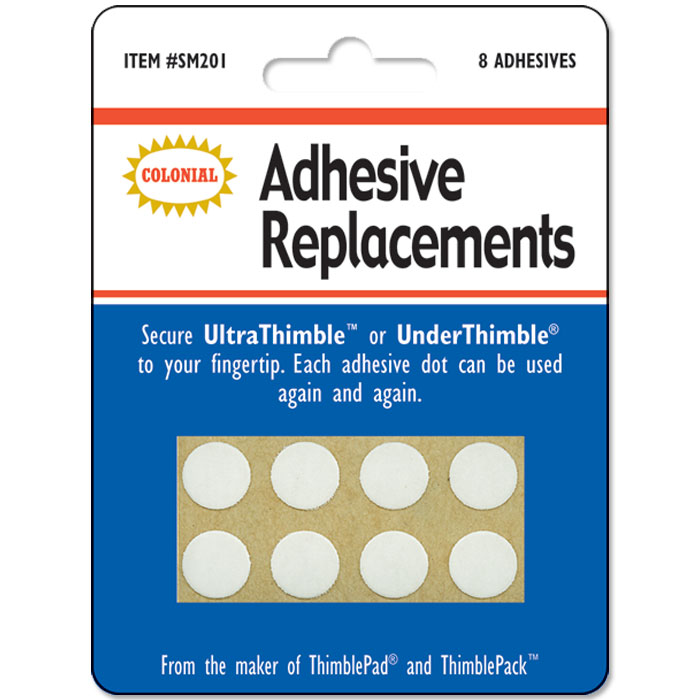 Adhesive Replacements are included with each of these small in size but large in function tools. Not to worry, however, Colonial Needle Company offers packages of 8 Adhesive Replacements. Detailed instructions are on the back of the package, with an additional tip:  Allow a few minutes for the adhesive to bond to both the thimble and your finger.
Additional Tips
1.  Provide a gift bag of these thimble products to a beginning hand stitcher
2. Begin with Thimble-It, and progress to Thimble-Pad, and so on.
3. Take someone under your wings if you are an experienced hand stitcher.
I hope these tips and tools are helpful as you begin or continue on your hand stitching journey. What works for one person might not work as well for another. To continue doing what you enjoy doing, protect your fingers and hands, and share the joy of what you love to do with others.
Happy stitching,
Judy Moore Pullen