By Judy Moore Pullen
"She is so cute and fluffy!" is one of many elated comments I hear from children when Sable Ann enters Central Library in San Angelo, Texas. Sable Ann visits at the amazing Children's Library weekly as one of their Tail-waggin' Tutors. Children as well as adults ask so kindly, "May I pet her?" From the time we exit the car, to the time we get back in at the end of the day, so much kindness is shown to her and I by library visitors.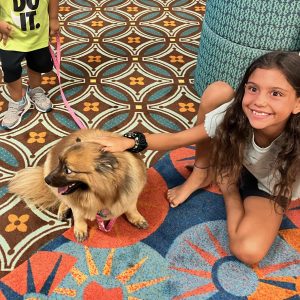 The Children's Library is like walking through Alice's looking glass of wonders, with books and toys galore, abundant activities, comfy child and adult-size furniture, and cuddlies for snuggling and reading within alcoves in the library walls. Giggles and laughter are encouraged, rather than the usual: "shh shh". Sable Ann is well-known to the children, and they ever so politely ask to take turns walking her around the child-size kitchens and food trucks where pretend food is prepared, and building blocks, computers, and shelves of books are readily available.
Sable Ann sat up-right in my lap as her TV debut began with local TV personality, Sonora Scott, and Fr. Richard Summers. They read to the children and engaged them with questions and discussion. Prior to reading the funny Dr. Suess book, The Cat in the Hat, we played with rhyming words in preparation for the children's help in reading the book together.
Crafting Time!
Then we moved over to the craft tables and this is where the real fun began! An abundance and variety of beautiful Presencia Perle Cotton and Floss, Persian Wool threads, plus Colonial Needle Chenille and Tapestry Needles size 18 were generously provided by this fine family company. Eager little hands of creative children were helped by loving parents, plus Miss Connie, Miss Becky, and Miss Jeanette, while Miss Trudy played the keyboard to the tune of the "Sable Song," also known as the BINGO song.
Brown felt dog bone shapes were then turned into one-of-a-kind bookmarks with help from loving adult hands. Tips were shared with children and adults during the sittin', singin', and stitchin' time.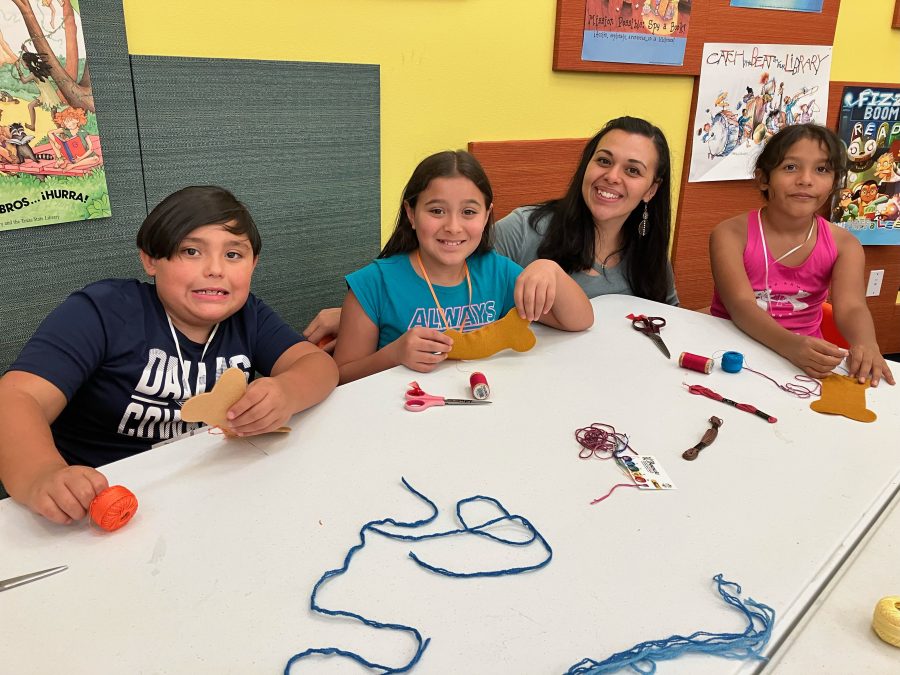 Today's Tips:
Anything can be turned into a pattern! The pattern for the felt dog bone shape is a small sign that I hang on my doorbell that reads: "Ring the bell, win a dog."
Place a pillow on your lap to rest your arms and to bring the work up to a comfortable position as you're stitching
More tips, tricks, and techniques were offered and practiced as the children and adults happily stitched and sang. Including, how to thread a needle.
How to thread a needle:
Stand it in a pin cushion, which will allow you to use both hands and better see the eye of the needle
Cut the thread straight across to help avoid fraying the thread
Moisten and pinch flat the cut end of the thread.
Now use a needle threader or a loop of Presencia 50 weight thread as a needle threader if one is not available.
How do you spell joy?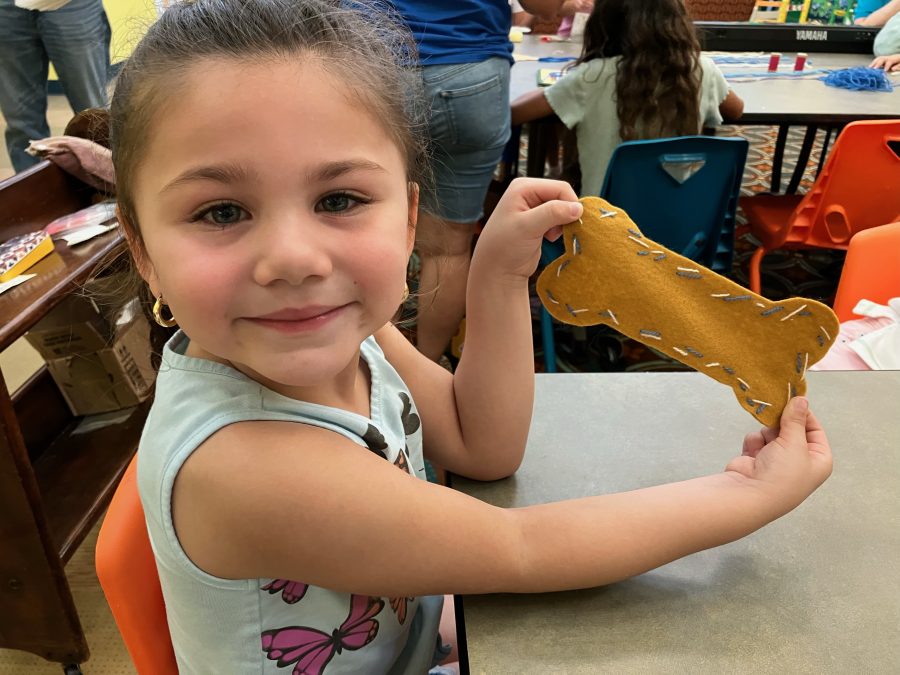 Read daily to and with a child in your lap or nearby. Sing, stitch, savor the company of like-minded friends. One more tip to parents: read aloud to your child from the day you bring your baby home for the first time. Prop up a book, use a sweet voice and eye contact as you read.
In addition to research that indicates reading aloud daily to a child from infancy helps promote success later on in school as well as social situations, you will be creating memories that last a lifetime for you as well as your child.
One more tip:
Have a sweet, loving, fluffy 4-legger nearby. Sable is a local celebrity, so after her home-cooked meal when we arrived home after her TV debut, she promptly curled up, closed her eyes, and probably dreamed about her wonderful day reading and loving children who happily loved her back.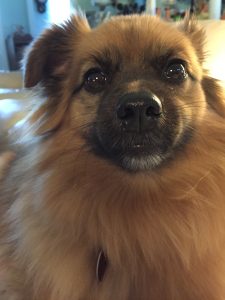 Joyfully,
Judy Moore Pullen