By Judy Moore Pullen
I have my parents' hands and hearts, and for that I am so grateful. My parents' work with their hands was so connected to their hearts. As I observe and listen to others during these last several months, I am convinced that those who quilt, embroider, knit, crochet, sew or do any kind of handwork do so with a connection of their hearts and hands. During this time of so much uncertainty and concern, many people are pulling together, reaching out with their hearts and hands to help others.
My parents grew up during the time of the Great Depression in Appalachia, a place of great natural beauty, but also great poverty. "Make do or do without" was an expression that defined their daily lives. Times were tough, and so were they. But their hard, laborious work done by hand, also produced soft hearts that reached out willingly to their family, friends, and neighbors.
My mother taught me to sew by hand at an early age on a dishtowel, to mend and sew on buttons, and to fashion clothes for a rag doll from her quilt scraps. I grew up with quilts made from left overs of clothing, pieced and quilted by hand. I remember going to the feed store before entering first grade with my mother to hopefully find enough feed sacks of the same print to make a new dress for my first day of school. Today, those feed sacks are quiltmakers' collectors items, treasured as much as my new dress in the 1940's. The feed sacks were chosen and stitched lovingly by my mother's hands and heart.
My dad instilled in me the pleasure of fixing things instead of tossing aside and buying something new. My dad never had a brand-new car, but I well remember helping him bleed brakes, set the gap of spark plugs, and mend the fence for the chicken's pen. I still have a strand of braided twine from a feed sack that my dad gave me. He saved the chain-stitched closure on each feed sack. I remember watching him braid three strands together, while sharing with me the lesson of how much stronger we are when we work together. My dad never saw a stranger, always willing to help when and where help was needed.
My quilting friends today are also an example of how individuals work with their hands and hearts to help others. Quilters used their skills and problem-solving abilities to be some of the first to make face masks when it was learned how helpful they can be. They dug into their scraps and stashes to provide fabrics once intended for quilts, table runners, wall hangings, or gifts for others to make and give away face masks, the work of their hands and hearts. They designed a variety of face coverings, some using elastic for ear pieces and others strips that tied the masks in place. Quilters readily shared ideas about what worked best for them. Designs were modified and masks were made for children using colorful and fun prints. And, all the time and efforts on the part of quilters has been freely given using the work of their hands and their hearts to help others.
I firmly believe that we are always being prepared for a turn or fork in the road, or a diversion that allows us to use our individual gifts and talents. Amid so much concern during the last several months, quilters have been using their experiences, gifts, and talents and the work of their hands and their hearts, turning time spent at home and their resources at hand to help others. What a joy to be able to use the lessons learned at an early age from my parents to use my hands and heart as a source of joy and fulfillment.
ROXANNE'S GLUE TIP
I was pressing a 2 1/2" strip for a bias binding using a dry iron, being careful to not stretch the strip out of shape. With steam, I can turn a fat quarter into nearly a half yard. I noticed Roxanne's Glue Stick in a pretty little container while waiting for the heat of the iron to create a sharp crease in the fold of the binding strip. Then a light bulb went off in my head! I gently swiped the Glue Stick across the wrong side of the binding strip near the cut edge, and gently nudged the other cut edge over to match.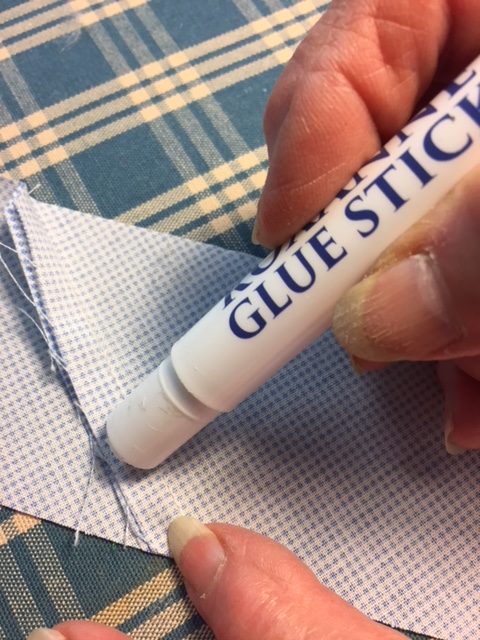 Then I pressed down firmly, not ironing back and forth. A smooth, flat, stable bias resulted! Hmmmm….wonder if that will help prevent the "bubble" that rises up ahead of my walking foot when I machine stitch binding to the right side of my quilt?  A walking foot is so helpful when machine stitching a binding to a quilted project, but I still must frequently stop, lift the presser foot, give a tug front and back on the binding, flatten the binding in place, stitch a few inches, and repeat the process. So, over to my machine to do a field test. BINGO!!!! So much smoother, easier, quicker, and neater! Wonder if it will work on binding that is cut on the straight of grain, cross grain?
Back to my ironing board to glue and press straight and cross grain strips. Stitched the binding in place for a few inches, and BINGO again!! The top layer of cross grain binding stayed in place!!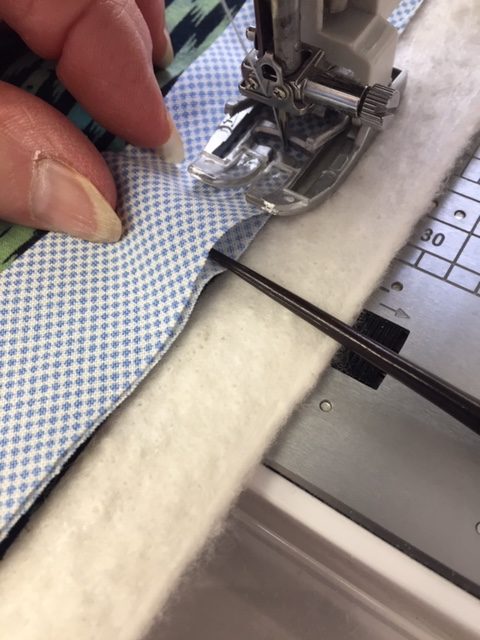 No "bubble"! I do like bubbles, but not on my bindings. Thank you, Roxanne's Glue Stick!!
Happy Stitching,
Judy Moore Pullen