Do I have thread? Yes, but not just any old thread. This request by a dear quilting friend, Sue, reminds me of my mother and neighbors borrowing and loaning a cup of sugar, flour, or stick of butter. It's just something neighbors do, especially when you live in the country as Sue and I do. 
Sue had ever so generously offered to machine quilt a huggable quilt for a child that another dear quilting friend, Debbie, had lovingly hand appliqued. Debbie created colorful, one-of-a-kind lollipop flowers atop variegated jumbo rick rack stems. She is as amazingly creative with small scraps of fabric as Sue is when she performs machine magic stipple quilting.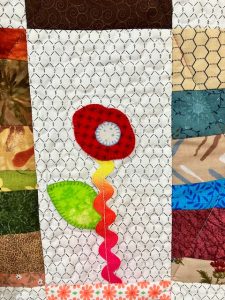 Stipple quilting looks somewhat like connected jigsaw puzzle pieces. The feed dogs of the sewing machine are disengaged, allowing the quilter to freely move about the quilt sandwich and stitch curvy lines. This quilting technique is perfect for quilting the background of each block, while making the appliqued flowers "pop". Sue has generously offered to teach me to machine stipple quilt, and I look forward to practicing by making lots of pot holders. Sue's stipple quilting was the perfect finishing touch to make those happy flowers come alive on that cheerful child's quilt. And…the Presencia 40-weight thread that Sue borrowed was the perfect thread for quilting.
A few days later, I received a call from Sue, and she was so excited. She had completed the machine quilting and was raving about what a difference the thread made in the process as well as the appearance of the completed quilt. To paraphrase Sue: "The thread did not break! It is so strong! The stipple quilting was more consistent, and there was virtually no lint in the bobbin area when finished. Tell me more about this spool of white thread!" I simply could not contain myself. I happily told Sue about the thread she "borrowed," and I am happy to share with you as well.
Presencia is the name of that wonderful thread, and yes, not all thread is alike. There is a definite difference. Presencia begins with the very best 100% long staple Egyptian cotton, mercerized for strength, and is both colorfast and shrinkfast. The long staple fiber and superior quality of Egyptian cotton results in the very best quality thread. Somewhat like making a from-scratch lemon meringue pie, when you begin with fresh eggs, a real lemon, and the best ingredients, you simply cannot eat just one piece of that pie.
Also keep in mind, that the bigger the number on the spool, the finer the sewing thread (and hand sewing needles). I "loaned" Sue a spool of 40-weight Presencia thread for machine quilting. Presencia sewing thread comes in 40, 50 and 60-weights.  All three weights are 3-ply, which means that 3 strong strands are twisted together for extra strength, even the finest 60-weight. The strength and consistency of Egyptian fibers also make Presencia excellent for even bobbin stitches. Just fill your bobbin with the same weight as the top thread.
Presencia also comes in a variety of spool sizes, from 100, 500 and 600 meters, as well as cones. Check out Colonial Needle Company's website for detailed information, as well as an assortment of color packs. Many beautiful colors are available.
Sue is sold on the ease of stitching with Presencia as well as the beauty of the finished quilting. The child who receives this happy quilt will also be able to love and drag it around and snuggle and snooze beneath its comfort for a long time.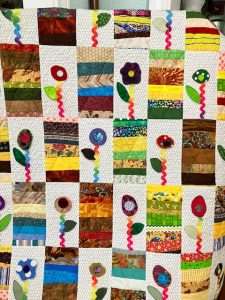 Since my quilting neighbors and I live in the country, stocking up on Presencia thread is always a good idea when field trips to town and quilt shops are our destination. However, we are happy to share with dear quilting friends in need. Sometimes the best-learned lessons are hands on. Take someone under your wings and "loan" a spool of Presencia. Both you and your friends will be happy you did. It's as good as, maybe even better than, loaning a cup of sugar. Now, to begin that from-scratch lemon meringue pie for Sue and Mike…
Happy stitching,
Judy Moore Pullen