By Judy Moore Pullen
Applique is an awesome, not awful, word to me. I feel like a sculptor as I swoop and turn under that scant 1/4" seam allowance; traveling down straight folded edges of applique fabric, then creating curves, dipping into innie points and playing with my newest trick for pointy outie points. There are several things I suggest doing in preparation for my joy of sculpting fabric, AKA: hand applique.
Thing 1: Gather your tools. Tools as in fabric cutting scissors: sharp to the point and rather short for better control of where you clip and how far you clip into the seam allowance. And use just those sharp points of your scissors to clip and trim. I learned that the hard way several years ago while hand quilting on a frame on my mother's quilt. I opened large scissors all the way and clipped the thread as well as the quilt top. That was a good, life-long lesson I learned that day. Sometimes I also use pinking shears to carefully trim the cut edges of the applique, taking tiny bites out of the fabric for ease in turning under the seam allowance and reducing bulk beneath the applique. Practice first with those pinking shears. You can always trim away more, but it is most frustrating to try to turn under a seam allowance that is too narrow and ultimately frays.
Thing 2: One of my favorite tools for hand applique that I gather is a thimble. I especially love using Roxanne Thimbles. A correct fitting is required (Colonial Needle has put some tips together here). When I owned a quilt shop several years ago, I suggested to my customers who were interested in a Roxanne Thimble that they bring some handwork, and spend a little time trying out several sizes by sittin' and stitchin' for a little while — somewhat like walking around in a new pair of shoes to make sure they fit prior to purchase. In addition to being very comfortable with a proper fit, Roxanne's Thimble is ergonomically better for your hands. The side-push of the needle with your finger is better for your hands than pushing the needle with the tip of your finger. Using this thimble allows me the joy of continuing to hand stitch for many years to come. Roxanne's Thimble also makes a lovely gift for that special friend or family member with a choice of gold plated, silver plated, or sterling. Every time I use mine, I am reminded of a dear friend who gifted me with one- a gift that keeps giving.
Thing 3: Another very small but also very helpful tool are Needle Grip-Its. Press your thumb and fore- finger together where you grip a needle. Then peel a little circle from a sheet in the package and apply the sticky side to the tip of your thumb on your dominant hand. Repeat for your forefinger on your dominant hand. The repetitive motion of gripping, pushing, and pulling a needle can cause pain and swelling in one's hands. These little unobtrusive circles stick well to your finger and thumb, and help to more easily grip and direct the needle exactly where you desire into the fabric. This also helps with that invisible applique stitch. Needle Grip-Its come packaged in sheets of 70 adhesive dots to easily carry in your sewing basket. They can also be cut into pairs to include in customers' kits for classes, offering a great opportunity to try before you buy.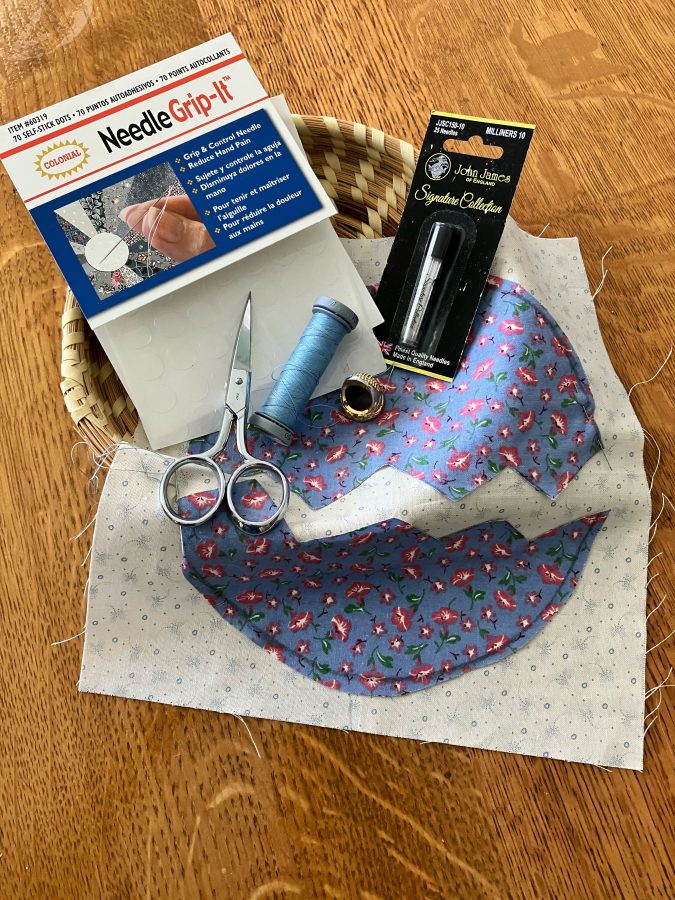 Thing 4: The quality of Presencia Thread for my hand applique assures me that the time and effort I spend making my stitches as invisible as possible is well worth it. Presencia begins with the finest 100% Egyptian Cotton, virtually lint-free, strong, and durable. As I acquire more candles on my birthday cake and my number becomes bigger, I am reminded that the bigger the number, the finer the thread (and hand sewing needles – sewing machine needles are the opposite.) For those nearly invisible hand applique stitches, there are four things that are especially helpful: applique thread size, applique thread color, the needle, and the stitch. I recommend sewing with sizes 50 weight or 60 weight for hand applique. Both sizes 50 and 60 are 3-ply (three fibers plied, twisted into one fine thread) therefore also very strong. For thread color, if possible, unwind a few inches of Presencia Thread from the spool and lay it across your applique fabric. We used to just lay a spool of thread across the fabric to audition thread color, but another lesson learned, thread color on the spool is different from a strand of thread. My personal favorite thread size is 60 weight since it is smaller in diameter than 50 weight.
Thing 5: I love so many needles that Colonial Needle Company has to offer. Over the years, I have also learned that fitting the needle to the thread and the project is most important. I used to sew with whatever needle I could see to thread, with whatever thread was available. With time comes wisdom! I really enjoy using the John James Signature Collection Needles, especially their Milliners and Quilting Needles for needleturn applique. The Milliners are long, very fine, strong, and help to easily pierce the folded edge of my applique as well as the background fabric. Because the needle is so sharp and made in England of the finest quality steel, I can easily pierce the fabric rather than push and distort where I want the applique. The length of the Milliners Needle helps me to turn under the seam allowance then hold the fold with the thumbnail of my other hand. With needleturn applique, I can spend my time and effort stitching, rather than preparing the appliques, although I must admit that friends who do prepared hand applique do beautiful work. The process of needleturn is what I love so much! Sometimes I enjoy a change, and use the John James Signature Collection Quilting Needle. It gives my hands a break, kind of like changing from tennis shoes to slip-on shoes mid-day. John James Signature Collection Needles also are available in Embroidery and Sharps Needles. They are packaged in the USA in crystal clear tubes of 25 needles, enough to keep you supplied for quite a while and to share with friends.
Thing 6: Just to mention a few other things I keep handy in preparation for hand applique: I highly recommend a good light source directly over your work. My light source is also magnified, helpful due to all those birthday candles…I also stitch with a pillow on my lap which helps to bring my sewing up to a level that is comfortable for me, and helps me rest my hands as well as more accurately position my needle and scissors. A pincushion for fine straight pins is a better option than the arm of my "nest" chair where I sit and stitch. A needle threader is helpful, and I will have a suggestion on tips for threading a needle in blogs to come. I enjoy hand sewing so much that I neglect getting up and moving around, so setting a timer is a good reminder for me if I am listening to an audio book or the serene sound of silence while I sew. If watching TV, I challenge myself to stand and stretch during commercials.
I try to keep several containers, baskets and boxes prepared with a collection of tools and WIPS (Works in Progress) for grabbing and going out the door, or putting in my car the evening prior to an appointment or meeting. One never knows when one will need to savor just sittin' and stitchin'. Most of us can multi-task anyway- listen and stitch. Needleturn applique helps me to be somewhat less annoying while listening to a speaker, while waiting for a delayed appointment, or for taking to the park when I have some time to spare between appointments. It also offers me the opportunity to meet new people, share interests, and perhaps even acquire converts to hand sewing. It's all good, and gets better with the best and right tools and tips.
Happy sewing,
Judy Moore Pullen