By Judy Moore Pullen
Do you remember when you took your first hand-sewing stitches? Was there someone who had taken you under her wings to help you learn the ins and outs of hand stitching? Do you have a story to share about learning to sew that might inspire someone else?
I have several stories to share about the wonderful people who took me under their wings and taught me to sew. And, even though I am not clear about what I wore yesterday, I well remember my very first attempt at hand sewing. I was about three years old and my parents, my best furry 4-legged friend Doodie (an English shepherd), and I lived on a farm in Ohio. After putting me down for a nap, my mother slipped out of the house to work in the garden. At the age of three, I would rather have been outside playing fetch with Doodie than stuck inside napping. Today, a nap is a welcome break and has become a daily habit 😊
Back to my story…upon waking from my nap, I discovered a tiny hole in my brown corduroy bibbed overalls. (Check out the photo to see why I still "remember" the color of those pants.) And just what does a little girl do with a hole in her pants when she is ready to get out and go play but Mama is not there? This little girl fiddled with the hole until it became bigger, and bigger, and bigger. I had watched my mother make those pants. So when I realized that I just might be in trouble, I climbed out of bed, found my mother's sewing box, and started stitching up that hole with my stubby, chubby little fingers.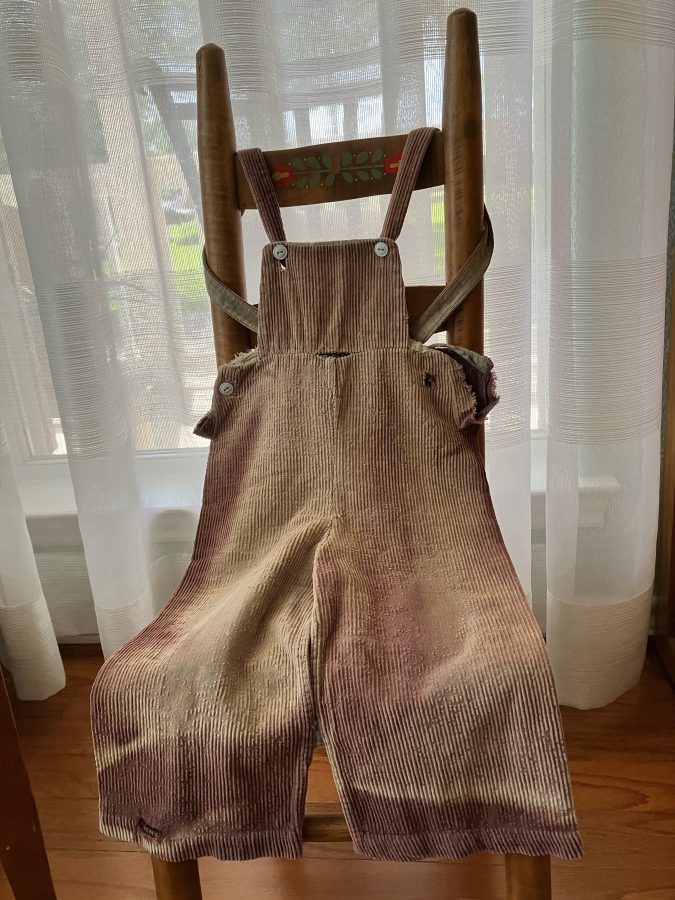 When Mama returned from the garden to check on me, was she upset that I had begun demolition on my overalls and tried to fix them? Not at all! She laughed and could hardly wait to show my daddy when he got home from work. I still have that pair of pants, with the textured corduroy worn smooth at the knees, and the hems a darker color since Mama let out the hems as I grew taller.
How I treasure that story, for many reasons. Reflecting on that first attempt at sewing, I think it is one of the many things that helped give me direction over the years. A year later, when we moved to a small town, a dear sweet granny took me under her wings and taught me the ins and outs of needle and thread hand embroidery on a dishtowel. I can still picture Grandma Morehead sitting next to me on her sofa (she was a very proper lady) arms wrapped around me, helping me hold an embroidery hoop and guiding my hands to make stitches in one of her dishtowels.
Years later, dear Mrs. Crawford, Home Economics teacher in my high school in a little town in Ohio that still does not have a stop light, patiently taught me to hem a lined red wool suit with nearly invisible stitches. I still have the pinking shears that I won with that red wool suit!
There are many more stories that I treasure remembering now that I spend more time reflecting on wonderful people who have guided me, taken me under their wings and taught me skills that have enabled me to do what I love and love what I do. Good people continue to help me.
And then there are the wonderful folks at Colonial Needle Company who have become like family to me, allowing me to teach techniques, test some of their products, and share my tips for stitching and my thoughts. One of their newest products is John James Signature Collection Needles, that are, as the old saying goes, better than sliced bread and twice as sharp as the knife that sliced that bread!
John James newest Signature Collection Needles come in 4 types: Betweens, Sharps, Milliners, and Embroidery. Manufactured in England and packaged by Colonial Needle Company in the USA, these excellent needles are precision engineered of premium steel, with a proprietary finish so that they smoothly and easily glide through fabric. Hand stitching is strain free. The points on these needles are so sharp that they easily pierce the fabric rather than push it, resulting in greater accuracy, especially important in hand applique, and make hand stitching even more enjoyable.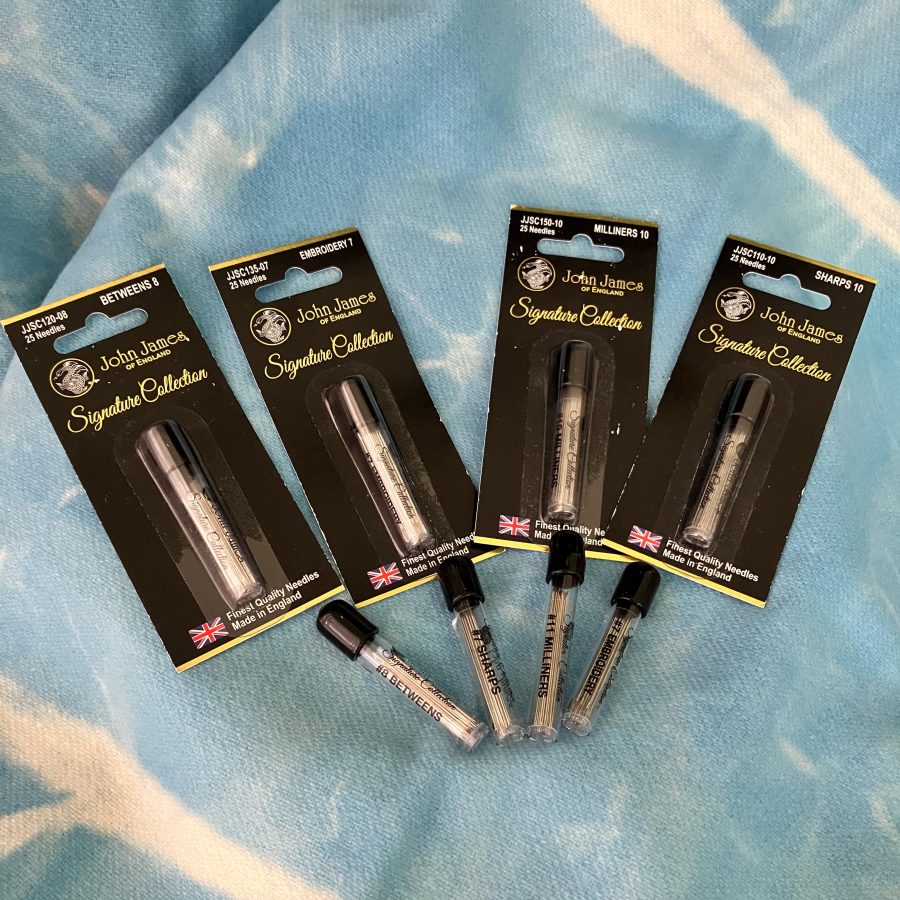 Betweens, also known as Quilting Needles, come in sizes 7-11. Keep in mind that the bigger the number the finer the hand sewing needle. The opposite is true for machine needles. (I like to think that the bigger my number/age, the finer I am getting, too. Therefore, I remember age 3 but not what I wore yesterday…) John James Signature Collections Sharps Needles come in sizes 7-10; Milliners sizes 10, 11; Embroidery Needles sizes 7,8,9. They are packaged in crystal clear tubes of 25 needles, so that you do not quickly run out, and have plenty to share with your like-minded friends.
More about these wonderful needles and samples, tips, and techniques in blogs to come.
So, as you sew, think about your first hand-sewing experience. When? Where? How? What? Who helped? Perhaps if Mama had gotten upset with me and my attempts to repair the pants in which I enlarged the small hole, I might not have continued on my journey with needles and threads, and what a joyous journey it has been and continues to be. I encourage you to think about and share your sewing memories.
Happy sewing and happy thoughts,
Judy Moore Pullen