Judy Moore Pullen's Quilt Market Class
Applique and All!
Just when you thought that all forms of quilting have been learned and revisited, yet another tide of applique interest rolls in! We're lucky at Colonial that we have an applique' expert on staff. Judy Moore Pullen, a public school teacher for many years, turned her talents to quilting after she retired. Her special love is applique' and she uses all sorts of fabrics and threads in her work.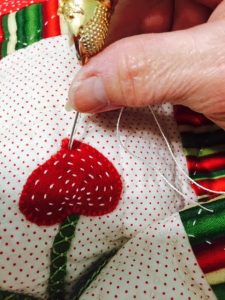 At the upcoming Spring Quilt Market in St. Louis, Judy is presenting two Take & Teach sessions for Colonial Needle. The first is class #308 called Wool Appliqué–Beginning to Advanced taking place Friday May 18th from 8-9:30 AM (before Market opens). The second is the next day (Saturday the 19th, 8-9:30 AM) and is #408 called Hand Applique'-Tips, Tricks, Tools, and Techniques.
Judy will educate you in a knowledgeable and gentle manner and answer your questions patiently. She is simply an excellent teacher. When you come to Market, you might as well learn from the best!
Nothing written about Judy is quite complete without a mention of her beloved pup Sable.