Roxanne's Glue Baste-It
New 2-way Applicator
Stick With Me Baby!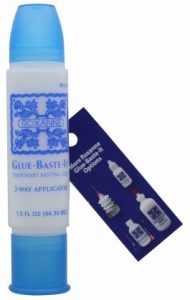 As if Roxanne's Glue Baste-It can get any better! At last Spring's wholesale Quilt Market, Colonial Needle unleashed yet another new applicator for their superb quality Roxanne product, Glue Baste-It. The go-to glue for many crafters, Glue Baste-It is especially appropriate for use with fabrics. The glue is water-soluble but holds firmly until you wash it. It's ph neutral so it won't change the color of your fabric. Best of all, it dries clear in a couple of minutes.
Now, the new 2-way applicator bottle gives crafters several application choices. Need tiny little dots of glue? Use the small tip and dot-dot-dot. If you need a wider swath of glue, turn the bottle over and smear with the wide tip. And if you need a narrow but constant line, turn the wide tip on its edge and apply gentle but steady pressure.
This little bottle does it all. From holding down appliques to temporarily setting in zippers, Glue Baste-It is simply the best.
---
Roseann Meehan Kermes, owner of Rosebud's Cottage and also the author of the best-selling new book called A Little Something, Cute-as-Can-Be Patterns for Wool Stitchery is a fervent fan of Roxanne's Glue Baste-It. She uses it for her wool applique projects and has bottles everywhere in her studio. She sent this picture to prove it!
To pick up your bottle of Roxanne Glue Baste-It's new two-way applicator click here. Or, visit our website to check out the rest of the Roxanne family of products.